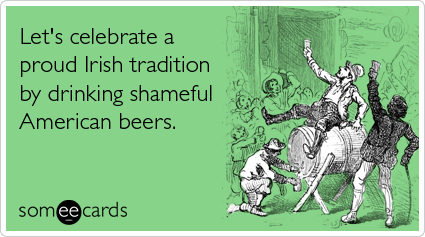 Happy Saint Patrick's Day to all! Liv + Sal are celebrating with a little 8 mile run home from work (nbd) along the Capital Crescent Trail, ending at the Georgetown waterfront for some green beers with friends. Not a bad way to spend a beautiful nearly spring day, eh?
And in the spirit of all things Irish, how about a little jingle (the iambic pentameter only works if you say it aloud with a shoddy Irish accent and swing your arms from side to side while attempting a jig)...
A Shoes Full of Feet Limerick
There once were 2 gals with 2 feet
But those feet did not hit the street
So they strapped on some shoes,
Said goodbye to their blues,
And together they could not be beat.
(Yes, we recognize that we can, in fact, be beat. And we will be beat... over and over again by many, MANY runners who are infinitely faster than us. But we needed something that rhymed. And it's more of a metaphor in that, well at least the marathon won't beat us, okay?? Just go with it)
"Oh, hey y'all!"- from one of Sal's freakishly adorable nephews. And yes, he's in a bar... like any good Irish baby should be.
And as long as we're exploiting the holiday with the most obviously Irish things we can think of, we give you the man himself...