Happy Turkey Day, folks! We've migrated south for the holiday, so we'll be hitting the pavement in our hometown.
As Thanksgiving officially kicks off the holiday season (read: non-stop eating, drinking and being merry and/or stressed), here's the ever present dilemma:
How do we enjoy the holidays, while not putting our selves into food comas (thus, less likely to go out for a nice 4 mile run), and not succumb to the holiday weight gain? Especially when all of our favorite holiday traditions revolve around food!
Popular answers might include but are not limited to:
Self-discipline

(Ha! Easier said than done)

Portion control

(Again - not exactly one of our strong suits)

Run a holiday themed race (i.e. Turkey Trot, Jingle Bell Dash)

Run/workout more so we can eat more

(but it's so much easier to hibernate and store up for winter)

Don't go to a party every night

(enough with the tacky Christmas sweater parties, people)
We'll be developing our plan....just as soon as we wake up from our post-turkey naps!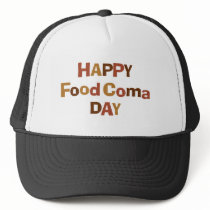 Gobble Gobble,